At American Amusement Rentals we take care to provide our customers with high quality services personalized for their unique needs. With our experience in this industry we are able to both provide the equipment you need for your event, as well as manage the costs to fit your budget. We are also able to provide a wide variety of unique foods and various games for both kids and adults alike.

We provide a variety of services including:
Corperate Parties:
We can provide different equipment to meet your needs. Rides, food and games can be provided to create a unique one day event for employee appreciation that will please the whole family.
Fairs, Festivals and Church Events
We service many fair and festival committees as well as church lawn fetes at the present time. Our events run anywhere from one to six days. Our experienced staff can help with the planning of your event or just help provide you with the services you need.
Birthday, Graduation and Private Parties
Weather you are looking for just a bounce house, or a number of pieces, we can provide you with what you need. We carry a long list of bounce houses, including but not limited to a Wet-Dry 18' super slide. Just call us for your one stop shopping.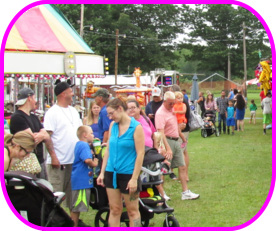 We suggest that you call soon for bookings as time slots fill very quickly, especially during peek summer times. We look forward to hearing from you and working with you and your staff.